HUNTSMAN BUILDING SOLUTIONS WINS GOLD MARCOM AWARD FOR MEDIA RELATIONS/PUBLICITY
16 Feb 2022
HBS AWARDED FOR GOLD IN THE 2021 MARCOM AWARDS COMPETITION FOR MEDIA RELATIONS/PUBLICITY. THIS INTERNATIONAL COMPETITION RECOGNIZES OUTSTANDING ACHIEVEMENT BY COMMUNICATION AND MARKETING PROFESSIONALS.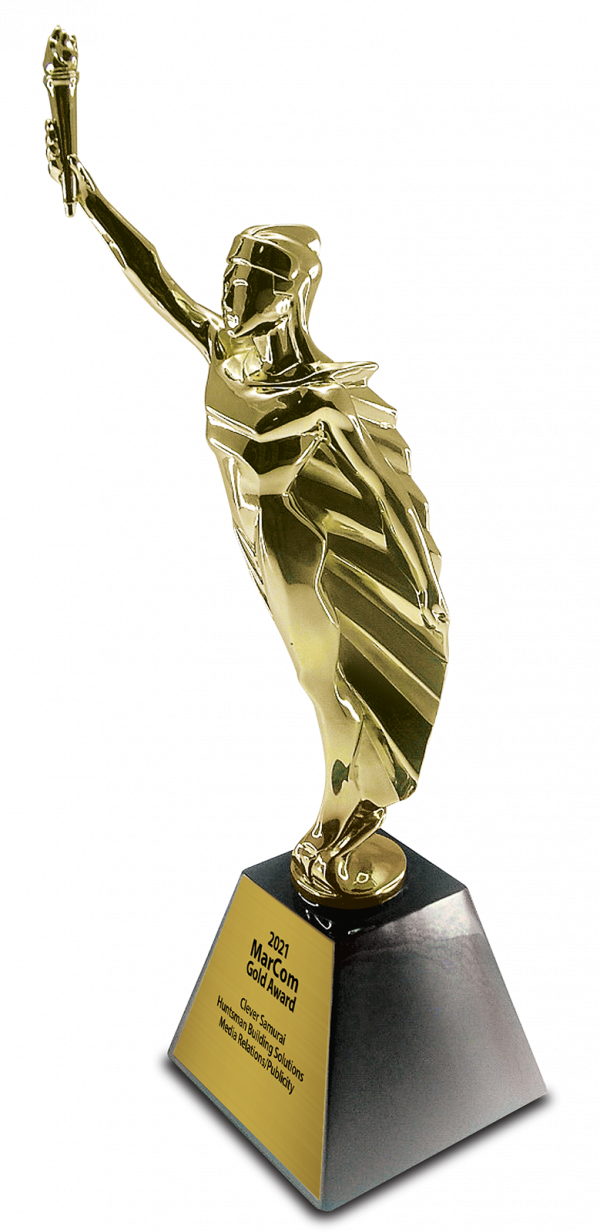 Huntsman Building Solutions a global leader in the category of high performance spray foam insulation and sustainable building envelope solutions, in collaboration with Clever Samurai, was awarded for Gold in the 2021 MarCom Awards Competition for Media Relations/Publicity. The winning campaign scored among best of over 6,500 entries per year from 100+ countries. MarCom Awards is an international competition that recognizes outstanding achievement by communication and marketing professionals.
Strategy
The strategy focused on the Canadian market, a huge purchaser of spray foam due to the climate and on Huntsman Building Solutions' B2B target audience of architects/specifiers, building engineers, contractors, property/facility managers and institutional/portfolio building owners. Industry publications, online outlets and influencers were approached with the objective of securing and placing content in digital and print mediums.
"There is much to know about our products, giving us the opportunity to demonstrate our thought leadership with our key markets," says Doug Brady, Vice President, Global Innovation and Product Management with Huntsman Building Solutions. "Our goal is to build brand equity within the category and communicate our support by educating the various science and technology innovations and green objectives to stakeholders and building owners."
The purpose of the 2021 media relations/publicity efforts was to secure and place content in digital (and companion print) media focused on topics including:
• Spray foam science (open-cell/closed-cell, etc.)
• Spray foam application methods like the new D-Max Wall assembly
• Legislation and green energy / LEEDS
• New product introductions
• Sustainability with Heatlok Soya HFO, the only spray foam product with a specific Environmental Product Declaration (EPD)
The past year has seen significant update from a myriad of sixty (60) or so English and French media in Canada where articles, blogs and podcasts were secured for Huntsman Building Solutions subject matter experts.
To learn more about Huntsman Building Solutions and the company's complete suite of energy efficient building solutions, visit HuntsmanBuildingSolutions.com. Join the company on Twitter, LinkedIn, Facebook, Instagram and YouTube.
About Huntsman Building Solutions:
The Huntsman Building Solutions business is a global leader in high-performance, sustainable building envelope solutions. Its systems and solutions are widely utilized to optimize commercial and residential structures worldwide in both new construction and retrofit applications. Formed in 2020 with the acquisition of Icynene-Lapolla and its combination with Demilec, the Huntsman Building Solutions business capitalizes on legacy industry technologies, environmental stewardship, and the power of the Huntsman brand. For more information, visit huntsmanbuildingsolutions.com.
About Huntsman:
Huntsman Corporation is a publicly traded global manufacturer and marketer of differentiated and specialty chemicals with 2020 revenues of approximately $6 billion. Our chemical products number in the thousands and are sold worldwide to manufacturers serving a broad and diverse range of consumer and industrial end markets. We operate more than 70 manufacturing, R&D and operations facilities in approximately 30 countries and employ approximately 9,000 associates within our four distinct business divisions. For more information about Huntsman, please visit the company's website at www.huntsman.com.