Huntsman Building Solutions Introduces CEU Courses for Design Professionals on Spray Foam Continuous Insulation, Roofing Applications
13 Apr 2021
Nano-Credit Short Courses Available through Architectural Record Offer On-Demand Continuing Education Opportunities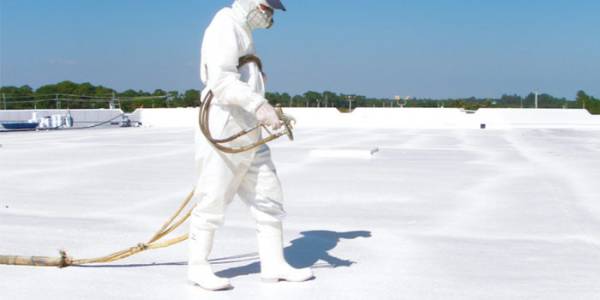 The Woodlands, TX (April 13, 2021) – Huntsman Building Solutions, a global leader in high performance, sustainable building envelope solutions, today announced the launch of two new courses for design professionals. The continuing education offerings, Spray Polyurethane Foam as a Continuous Insulation (CI) Solution and Improving Roof Performance with Spray Foam Insulation, are both available through Architectural Record magazine's Continuing Education Center. Each course is a nano-credit offering, providing participants who complete one with 0.5 CEU credits.
"Huntsman Building Solutions is dedicated to providing quality education that both matches and ensures the highest performance of our products," says Doug Brady, vice president of global innovation and product management for Huntsman Building Solutions. "These mobile-friendly, on-demand courses are designed to provide knowledge pertinent to two of the most important topics relative to spray polyurethane foam and give architects the opportunity to continue their education while they are working from home or sitting anywhere from a parking lot to a waiting room."
The first offering, Spray Polyurethane Foam as Continuous (CI) Insulation, provides instruction and knowledge surrounding the attributes, benefits and advantages of closed-cell spray foam when it is applied as CI. Upon completion of this course, architects will be able to define both types of foam insulation products – spray polyurethane foam (SPF) and rigid foam board – utilized for exterior CI project application; understand the installation and performance advantages of SPF versus rigid foam board; investigate the use of SPF to achieve multiple performance traits in one product including thermal, air and water resistance; and recognize the installed cost advantages of SPF as compared to rigid foam board.
The second offering, Improving Roof Performance with Spray Foam Insulation, provides an overview of the thermal performance benefits of spray foam roofing as well as specific applications for the material. Participants in this course will learn how spray foam differs from traditional roof products; the key benefits of specifying spray foam roofing for new construction; performance attributes of the solution and why it makes sense to recover roofs with spray foam; and the importance of certified and well-trained installers.
Both courses are available free of charge to architects and are registered with AIA CES for continuing professional education. Credits earned upon completion of each course will be reported to AIA CES for AIA members. Certificates of completion for both AIA members and non-members are available upon request.
To sign up for the course visit Architectural Record's Continuing Education Center at https://continuingeducation.bnpmedia.com/library.php?S=N.
To explore Huntsman Building Solutions' complete suite of energy efficient building solutions, visit www.huntsmanbuildingsolutions.com. Join the company on Twitter, LinkedIn, Facebook, Instagram and YouTube.
About Huntsman Building Solutions:
The Huntsman Building Solutions business is a global leader in high-performance, sustainable building envelope solutions. Its systems and solutions are widely utilized to optimize commercial and residential structures worldwide in both new construction and retrofit applications. Formed in 2020 with the acquisition of Icynene-Lapolla and its combination with Demilec, the Huntsman Building Solutions business capitalizes on legacy industry technologies, environmental stewardship and the power of the Huntsman brand. Visit huntsmanbuildingsolutions.com.
About Huntsman: 
Huntsman Corporation is a publicly traded global manufacturer and marketer of differentiated and specialty chemicals with 2020 revenues of approximately $6 billion.  Our chemical products number in the thousands and are sold worldwide to manufacturers serving a broad and diverse range of consumer and industrial end markets. We operate more than 70 manufacturing, R&D and operations facilities in approximately 30 countries and employ approximately 9,000 associates within our four distinct business divisions. For more information about Huntsman, please visit the company's website at www.huntsman.com. 
# # #