Boxing clever
17 Apr 2023
High-performance spray foam insulation from Huntsman Building Solutions forms an integral part of Manchester's OGS container scheme.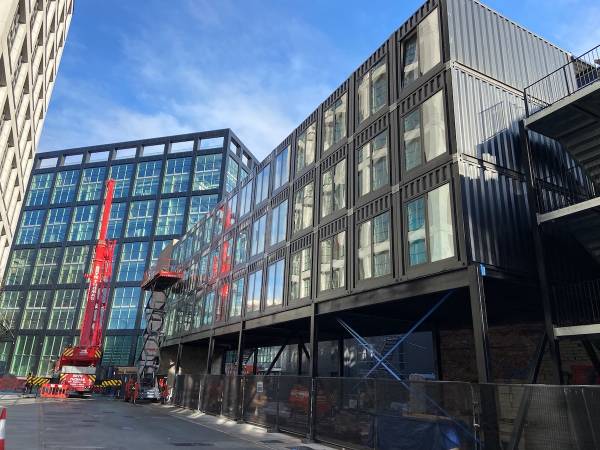 Constructed on the Old Granada TV Studios site in Manchester, The OGS Container Scheme employs an array of six-metre-long metal shipping containers to create low-cost office space for start-up's and other small businesses. The £3m development uses 42 containers to form a four-storey integrated block comprising three rows of 14 containers over a ground-floor podium of steelwork. A blockwork core houses lifts to all floors and each level has WC and kitchen facilities, as well as floating walkway with staircases at both ends.
Main contractor for the project was Artez Interiors of Bolton. Artez QS, Jeff Greenwood explains, "Overall construction was straightforward with each container being craned into position and locked in place. We used brand new containers rather than recycled so we knew everything would fit together perfectly. One of our biggest challenges however, was thermal insulation. Metal boxes are notoriously difficult to insulate effectively and reaching the required thermal values meant we had to think outside of the box."
High-performance closed-cell insulation
To solve this issue, Artez brought in Stockport based insulation specialist Green Horizon Energy Solutions Ltd, who recommended a high-performance closed-cell insulation system from Huntsman Building Solutions (HBS).
Matt Lawford of Green Horizon specified HBS Heatlok HFO, a polyurethane-based product which is spray applied directly to the internal walls of each container. It is a premium closed-cell foam that expands 100-fold on application, completely filling difficult to reach construction voids and creating a continuous, uninterrupted thermal barrier.
Steel studwork lining
Before spraying, each container was lined with 75mm deep galvanised steel studwork to the walls and ceiling, and electrical and related services installed. After application, a vapour barrier and conventional plasterboard were applied creating an effective self-contained fire compartment and at the same time providing a decorative internal finish.
The spray foam insulation completely encapsulates the studwork and adheres to the contours of the metal container shell, eliminating the risk of condensation. HBS Heatlok HFO is one of a new breed of high-performance, polyurethane spray foam insulation systems, developed in Canada to cope with their notoriously harsh winter condition.
Zero ozone depletion
According to Huntsman, Heatlok HFO uses recycled plastic materials and renewable soy oils in its composition. Its hydroflouroolefin (HFO) blowing agent is the most environmentally conscious blowing agent produced to date, with zero ozone depleting potential (ODP) and a global warming potential (GWP) of 1, making Heatlok HFO one of the most durable and environmentally-friendly insulations.
Huntsman also confirm that HFO PRO complies with the intent of the International Code Council's residential and commercial building codes, and is commonly used as a thermal insulation, air barrier, vapour retarder and water resistive barrier in above-ground, below-ground, interior and exterior applications.
The Old Granada Studios redevelopment area is rapidly establishing itself as a vibrant urban creative hub and events centre for Manchester and the OGS Container Scheme will form an integral part of the new cluster.
Quick to install and excellent thermal values
Construction work on the OGS scheme began in August 2022 and was scheduled for completion in February 2023. According to Jeff Greenwood of Artez Interiors, "Insulating the container units with Heatlok spray foam was the most logical solution. It was extremely quick to install, it gave us the thermal values we needed and it maximised internal work-space – a great solution all around."