Huntsman Building Solutions Introduces D-Max Wall™ Continuous Insulation Solution
12 Oct 2021
New Assembly Allows Installation of HEATLOK HFO Spray Foam from Interior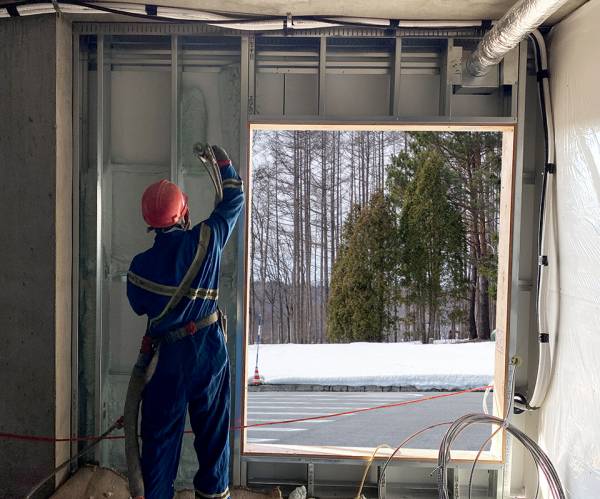 The Woodlands, TX (October 12, 2021) – Huntsman Building Solutions, a global leader in high performance, sustainable building envelope solutions, today introduced D-Max Wall™, a new assembly and continuous insulation solution which allows spray polyurethane foam insulation to be installed from the interior while managing thermal bridging of the studs and structure. The assembly utilizes HEATLOK HFO, with the closed-cell spray foam insulation providing three key functions, acting as insulation, air barrier and vapor barrier in a single product application. The new wall assembly eliminates construction delays caused by inclement weather conditions, allowing contractors to continue installation during cold winter months.
"Among D-Max Wall's biggest benefits is the spray foam insulation may be installed regardless of temperature or wind variables and as the walls are built, saving valuable time and maximizing speed to completion," says Doug Brady, vice president of global innovation and product management with Huntsman Building Solutions. "The assembly also provides significant heating savings during winter construction activity."
In the D-Max Wall, the closed-cell spray foam is installed completely from the interior and cuts the thermal bridge of the studs by filling the gap between the exterior sheathing panel, or exterior gypsum, and the studs. Variable depending on the insulation values to be achieved, this gap is created with Z-bars installed directly on the exterior face of the studs before sheathing installation. The spacing and size of the Z-bars vary depending on the type of building and cladding.
"D-Max Wall eliminates the need for scaffolding and hydraulic elevators during installation," adds Brady. "Eliminating this machinery reduces rental costs, logistics requirements and risk of accidents."
Exterior compartmentalization is avoided in the D-Max Wall assembly. Interior fuming is optional as compared to conventional construction and electrical systems may be installed before or after insulation. The assembly also eliminates holes in the vapor barrier.
The D-Max Wall assembly has successfully completed the CAN/ULC S101 test in accordance with article 3.2.3.8 of the Canadian building codes and is UL certified with the UL EW25 assembly. The system is also Greenguard Gold certified, demonstrating it is a low VOC emission solution ensuring better indoor air quality. Additional certifications and designations include: ASTM E96 Water Vapor Permeance; ASTM E2178 Air Permeance; Firestop certification by Hilti, 3M and STI; LEED V4: EPD-HPD-ACV; UL listed; and CCMC 14078-L.
For detailed information on D-Max Wall, as well as a step-by-step installation process, visit https://www.huntsmanbuildingsolutions.com/en-CA/sites/en_ca/files/2021-07/21.00137-HBS_D-Max_Wall_EN_ROC-Bifold-V3-DIGITAL%20resize2.pdf. Huntsman Building Solutions' technical team provides support in the areas of reviewing design details, specifications and onsite quality control to tailor D-Max Wall assembly to the specific needs of each individual project and to ensure quality installation.