Huntsman Building Solutions Prioritizes Best Practices, Safety in Application of Spray Polyurethane Foam Solutions
7 Aug 2023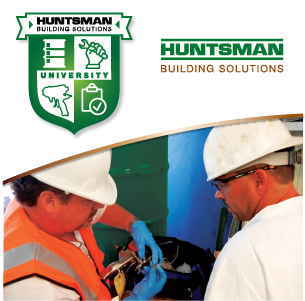 By Doug Brady
As a global leader in spray polyurethane foam systems for insulation, roofing and specialty applications, Huntsman Building Solutions (HBS) prides itself on the educational and technical resources it provides to the industry's contractors and applicators. The company's culture prioritizes safety in all operations and, thus, so too does the guidance HBS provides its valued contractor customers.
Since 2021, Huntsman Building Solutions has been strongly promoting participation in its Huntsman Building Solutions University, or HBSU, program and courses. Designed for those just starting out in the business all the way up through those extremely seasoned and in need of refresher courses, HBSU provides something for everyone. Training courses through HBSU are designed to help contractors improve skills and advance their career prospects.
"HBSU is a core component of our comprehensive program that initiates the moment a contractor signs up to work with us," says Vincent Kerr, director of technical service, with Huntsman Building Solutions. "When that initial sign-up occurs, the contractor is immediately introduced to the organization and the key personnel, from territory manager to technical team members, that will support that contractor throughout his or her journey with us."
Once introductions are complete, an appointment is made for a technical representative from the contractor's local region to drive out, visit and cover all aspects of the installation of spray foam. Often a multi-day visit, pending the size and needs of the individual contractor, the technical rep will during this time assess the contractor's spray foam rig and identify any areas of it requiring maintenance or repair, as well as evaluate in-place job site safety procedures, provide guidance on product volume and yield, and more.
"The technical rep onsite also has direct remote access to Huntsman Building Solutions' full technical team and can work via phone to troubleshoot any questions or needs that arise during that initial visit," adds Kerr.
At this point, the contractor is eligible to take HBSU training courses. "Though not mandatory, it is widely encouraged that they participate," says Kerr. "We are seeing demand rise among general contractors, architects and builders that spray foam contractors selected for their projects be able to prove they've completed this training. Not only that, training in the best practices of spray foam safety and installation simply makes sense."
Contractors who participate in HBSU are able to select from a number of online courses including: Spray Wall Foam Applicator Assistant Training, a four-hour course that covers HBS product processing, safety, and codes and approvals; Spray Wall Foam Applicator Training (101), a two-day training designed to educated spray foam applicators on a variety of subjects within nine learning modules (Foam Basics & History, Building Science & Thermal Envelope, Safety Training, New Codes & Approvals, Equipment Training, Spray Gun Presentation, Processing, House Preparation & Business, and Troubleshooting); Concrete Lifting Applicator Training (201), a course covering concrete lifting with spray foam in residential and commercial applications such as driveways, sidewalks, and patios; Retrofit Training, a two-hour course specifically designed for contractors working in existing homes and buildings; Sales Training (Mastering Conversations), a full-day course of intense sales training designed to develop the sales skills of market partners; Roofing Applicator (301), a two-day course to educate roofing applicators on all aspects of roofing with 12 modules from roofing basics, roofing investigation, warranties, safety, and all in between.
Huntsman Building Solutions also offers field-based training for contractors who have completed HBSU courses but are looking for a refresher and a one-on-one experience.
"Whether online courses, field training, in-person or remote technical support, all of our curriculum and resources are designed to promote best practices and safe application," says Kerr. "We not only want our contractors to excel in the field and deliver high-performance building solutions to their own customers, but we want everyone to be safe doing it. We cannot stress enough how crucial this is to us."
The HBSU program is not a certification program, however, entrants who complete courses receive a diploma that remains current for a three-year period. At the end of the duration, the contractor is required to retake the course on safety, processing, and codes. These courses are taken directly from the current HBSU 101 Applicator course.
"We are extremely proud of the traction of HBSU," adds Kerr. "To date, more than 2,000 individuals have signed up to complete our courses and we look forward to many more."
It is important to note that, no matter how much emphasis and guidance Huntsman Building Solutions provides to applicators on safety, the responsibility to enforce a safety program and safe installation procedures ultimately falls to the contractor on the job site. Each contractor is responsible for the provision and integrity of its own personal protective equipment, its own safety program and that its employees follow standard safety procedures. Huntsman Building Solutions encourages all contractors and applicators to prioritize safety when installing its products.
About the Author
Doug Brady is Chief Strategy Officer with Huntsman Building Solutions, a global leader in spray polyurethane foam. Visit www.huntsmanbuildingsolutions.com, and contact Doug at [email protected].