Training Courses
Spray foam outperforms traditional insulation methods more every day for efficiency and sustainability. Whether you're starting out or are well-versed in spray foam application, we have a training course that can improve your skills and advance your career prospects.
Spray Foam Applicator Training (101)
Spray Foam Training at our headquarters in Arlington, Texas will cover spray foam safety guidelines, building science and code issues, dispensing equipment, and application techniques for all Demilec spray foam systems. Each attendee will be expected to troubleshoot the equipment and "pull the trigger" in our spray lab.
Concrete Lifting Applicator Training (201)
Geolift is a concrete lifting foam for both residential and commercial use on driveways, sidewalks and patios. By drilling dime-sized holes in the uneven concrete and injecting Geolift under the slabs, you can lift, level and renew. This environmentally conscious injection foam contains raw materials made from recycled plastic, renewable soybeans and zero-ODP blowing agents. Demolition can be expensive. Instead of pouring new, repair your sunken concrete with Geolift to save time and money on your renovation.
Sales Training (Mastering Sales Conversations)
At Demilec we are committed to assisting our market partners in developing skills to succeed both on and off the jobsite. With this goal in mind, we have been working to create an intense full day of sales training. Please join us and learn to be a market dominator and not just react to the market.
This intense sales boot camp will cover:
       Sales Safety
       Selling to Architects, Builders, and Homeowners
       Maintaining Control of the Sales Process
       Motivating Yourself to Win in Tough Markets
       Listening and Questioning Techniques
       Setting Goals
       Building a Well-Rounded Customer Base That Provides In Good Times and Bad
       Understanding the Code for Efficiency and Fire Ratings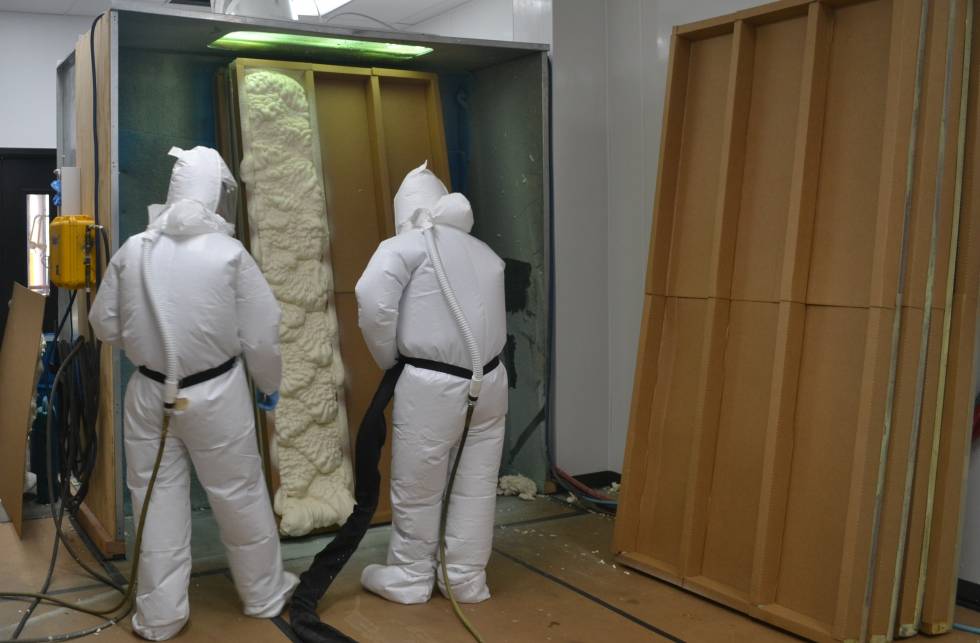 Course Dates
HBS University Virtual Training (US) - Radon Abatement Training

Event Date

25 February 2021

10.00am - 4.00pm

HBS University Virtual Training (US) - SPF Applicator Assistant Training

Event Date

5 March 2021

11.00am - 6.00pm

HBS University Virtual Training (US) - Spray Wall Foam Applicator Training

Start Date

8 March 2021

11.00am

End Date

9 March 2021

6.00pm

HBS University Virtual Training (US) - Concrete Lifting Training

Event Date

18 March 2021

11.00am - 5.00pm

HBS University Virtual Training (US) - SPF Applicator Assistant Training

Event Date

19 March 2021

11.00am - 6.00pm

HBS University Virtual Training (US) - Spray Wall Foam Applicator Training

Start Date

31 March 2021

8.00am

End Date

1 April 2021

4.00pm

HBS University Virtual Training (US) - Concrete Lifting Training

Event Date

8 April 2021

11.00am - 5.00pm

HBS University Virtual Training (US) - Selling Spray Foam

Start Date

12 April 2021

11.00am

End Date

13 April 2021

7.00pm

HBS University Virtual Training (US) - Spray Wall Foam Applicator Training

Start Date

14 April 2021

8.00am

End Date

15 April 2021

4.00pm

HBS University Virtual Training (US) - SPF Applicator Assistant Training

Event Date

23 April 2021

11.00am - 5.00pm

HBS University Virtual Training (US) - Spray Wall Foam Applicator Training

Start Date

26 April 2021

11.00am

End Date

27 April 2021

7.00pm

HBS University Virtual Training (US) - SPF Applicator Assistant Training

Event Date

5 May 2021

11.00am - 5.00pm

HBS University Virtual Training (US) - Spray Wall Foam Applicator Training

Start Date

6 May 2021

11.00am

End Date

7 May 2021

7.00pm

HBS University Virtual Training (US) - Concrete Lifting Training

Event Date

14 May 2021

11.00am - 5.00pm

HBS University Virtual Training (US) - Selling Spray Foam

Start Date

18 May 2021

8.00am

End Date

19 May 2021

4.00pm

HBS University Virtual Training (US) - SPF Applicator Assistant Training

Start Date

27 May 2021

8.00am

End Date

28 May 2021

4.00pm

HBS University Virtual Training (US) - Selling Spray Foam

Start Date

3 June 2021

11.00am

End Date

4 June 2021

7.00pm

HBS University Virtual Training (US) - Spray Wall Foam Applicator Training

Start Date

7 June 2021

8.00am

End Date

8 June 2021

4.00pm

HBS University Virtual Training (US) - Spray Wall Foam Applicator Training

Start Date

23 June 2021

11.00am

End Date

24 June 2021

7.00pm

HBS University Virtual Training (US) - Concrete Lifting Training

Event Date

29 June 2021

11.00am - 5.00pm

HBS University Virtual Training (US) - SPF Applicator Assistant Training

Event Date

30 June 2021

11.00am - 5.00pm
Keep up to date with all our Demilec news